News Details - anbcapital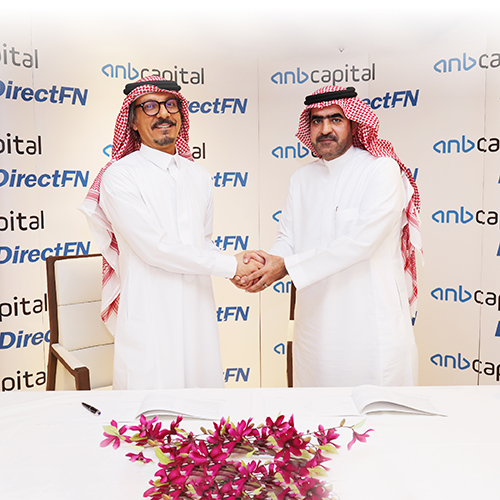 23 Mar, 2023
anb capital signs agreement with DirectFN to launch Nextgen Trading Platform (NTP)
anb capital announced that it has entered into an agreement with DirectFN to develop and launch a new trading experience for its clients, which will be in line with the best-in-class trading technologies offered globally. The product will offer distinctive value for both retail and institutional clients, incorporating easy-to-use screens and a highspeed order management system. The agreement was signed by Mr. Khalid S. Al Ghamdi, Chief Executive Officer of anb capital and Dr. Walid Al-Ballaa, Managing Director of DirectFN Ltd.
Mr. Khalid S. Al Ghamdi stated: "We have a very clear ambition to be one of the leaders in the brokerage space in Saudi Arabia. We will achieve this through a clear focus on the continued enhancement of our clients' experience of dealing with us. We view this as another step in our perpetual evolution to stay at the forefront of technology advancements in the industry."
Dr. Walid Al-Balla, Managing Director of DirectFN, welcomed the partnership with anb capital and stated: "DirectFN takes pride in being a partner of choice for leading capital market institutions such as anb capital. We have developed the Nextgen Trading Platform (NTP) which is a top-down built brokerage management system designed to provide superior trading experiences to clients."
---
anb capital is a leading investment bank of Saudi Arabia that offers its clients the ability to trade on the Saudi Stock Exchange and on numerous global stock exchanges including GCC exchanges, the Egyptian Exchange and exchanges across the United States, Europe and Asia.
DirectFN Ltd. is a leading Financial Technology solutions provider with more than 20 years of expertise in providing solutions to players active in capital markets. DirectFN provides fintech solutions together with other services to corporates across the region.