News Details - anbcapital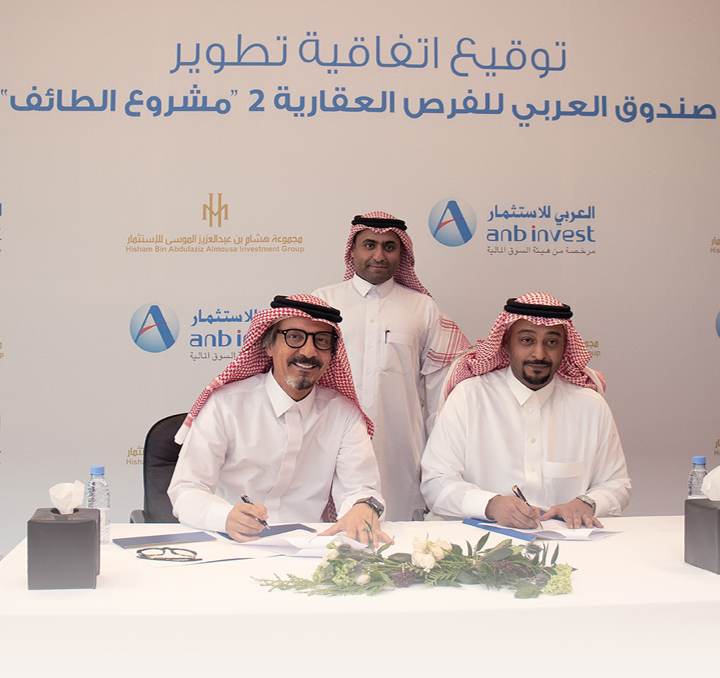 17 May, 2022
ANB Invest launches Al-Arabi Real Estate Opportunities Fund 2, (the "Taif Project")
Under the patronage of the Ministry of Municipal, Rural & Housing Affairs, ANB Invest and Hisham bin Abdulaziz Al Musa Investment Group entered into a project development agreement for real estate located in Taif city. ANB Invest has established a SAR 700 million Shari'ah-compliant private real estate fund which will invest in the project. The fund has acquired 1.4 million square meters of land at a strategic location in the city of Taif, which will now be developed as a mixed-use scheme. The infrastructure will include residential and commercial areas that will be sold as developed land.
Mr. Khalid Saleh Al-Ghamdi, CEO of ANB Invest, commented that the launch of the fund coincides with the issuance of the Royal Decree for the establishment of the Taif Provincial Development Authority, which is an extension of the efforts of the national leadership to bring about further qualitative development in Taif capitalizing on the region's nature, geography, and tourist and historical sites. Taif will emerge as a major attraction for investment, tourism and economic, cultural and sports events, which will drive sustainable economic growth of the region.

Mr. Al-Ghamdi also highlighted that strong demand from investors resulted in the fund being fully subscribed in a matter of days, reflecting the importance of this project which is also a new addition to ANB Invest's growing real estate portfolio. He added that ANB Invest is privileged to enter into a strategic partnership with Hisham Bin Abdulaziz Al Musa Investment Group, one of the leading companies in the field of real estate development.

Mr. Hisham Bin Abdulaziz Al Musa, CEO of Hisham Bin Abdulaziz Al Musa Investment Group, stated "We are pleased to launch a new phase of cooperation with ANB Invest, and we sincerely thank its employees for the outstanding performance that led to the signing of this agreement. The importance of Taif city, which is the eastern gate of Makkah and the third largest province in the Kingdom, is clear to everyone. The city receives more than 2.5 million visitors annually, drawn by local events and annual festivals. The environmental and geographical diversity of Taif presents an opportunity for investors to contribute to the modernization of the region."